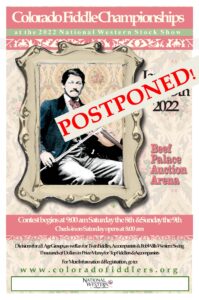 The 19th annual Colorado Fiddle Championships (CFC) at the National Western Stock Show is being *POSTPONED* from January 8th and 9th to a date later in 2022. The COTFA Board of Directors came to the consensus that due to the large number of contestants and staff who were unable to participate in light of the current challenges brought on by the current global pandemic, we are unable to produce the caliber of a contest event that is expected. We are working hard to find a new date in the first half of the year that works for all of our judges, guitar players and staff to still have a 2022 contest, and are truly grateful for everyone's genuine support behind this incredibly difficult decision.  
The contest is annually held the first weekend in the Beef Palace Auction Arena at the National Western Complex.  The Colorado Fiddle Championships draws nationally recognized fiddlers, including previous Grand Champions of the National Oldtime Fiddlers contest, Bob Wills Fiddle Festival & Contest, Texas State Championships/Fiddlers Frolics and Grand Masters Champions.
COTFA is so proud to have Aarun Carter, Kimber Ludiker & Katrina Nicolayeff judge this year's contest! 
For the fifth year, we are offering a Bob Wills Swing Fiddle division! This exciting division has been officially sanctioned by the Bob Wills Heritage Foundation Inc., which seeks to preserve and promote Bob Will's legacy through publications, recordings, educational outreach, events – all avenues to share the music and story of this American innovator and artist. Click here for the Bob Wills rules.
There will be a judged guitar accompanist division. We are proud and honored to have Jake Jabs of American Furniture Warehouse sponsor this division.
As of December 28, 2021, the city and county of Denver requires all individuals over the age of 2 to wear a face covering over their nose and mouth when entering, inside, or moving within any public indoor space. The Colorado Fiddle Championships will abide by local regulations in effect at the time of the event.
2022 CFC Schedule – coming soon!
2022 CFC Contest Rules – coming soon!
2022 Prize Money – coming soon!