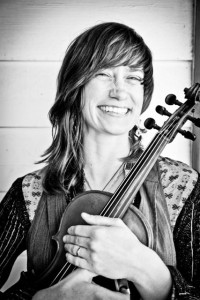 Enion is an internationally touring 5-string fiddler, composer, and singer, and is widely recognized for her elegant playing and thoughtful teaching in styles ranging from gypsy jazz, bluegrass, and classical music and everything in between. She leads the group Taarka with her husband David Tiller, and has also performed with many noted Front Range string bands including The Expedition Quintet, The Railsplitters, Elephant Revival, The Jayme Stone Quartet and more. She shares her knowledge gathered over 35 years spent playing and exploring music with luminaries in the string world ranging from YoYo Ma to Casey Driessen, and enjoys sharing her enthusiasm with students of all ages and all levels – from 3 year-olds just starting out on their journey with music to seasoned performers looking for help with improvisation, fiddle styles, jazz theory, technique, and comfort while playing.
Enion has been teaching violin, viola, and fiddle in Lyons and Boulder CO for the past 8 years. She has been an instructor for advanced students at fiddle camps around the country, including Mark O'Connor's celebrated Strings Conference and Brian Wicklund's Fiddle Pal camp, but she teaches beginning students of all ages as well, using a combination of Zweig/Suzuki pedagogy, Shirley Givens' Violinland method books and gems from the fiddle repetoire. Of Enion's playing and teaching, renown fiddler Darol Anger says "Enion, over and above her musical skills, is a key member of a large international community of string players which I liken to a "nation" whose imaginary borders stretch through and beyond all other imaginary borders… She is also an insightful teacher and can effectively help anyone with all kinds of technical and musical issues on her instrument."
Contact Enion at epelta@hotmail.com if you are interested in lessons.