The 16th annual Colorado Fiddle Championships (CFC) at the National Western Stock Show will be held on January 6th and 7th, 2018.
The contest is held the first weekend in the Beef Palace Auction Arena at the National Western Complex.  The Colorado Fiddle Championships draws nationally recognized fiddlers, including previous Grand Champions of the National Oldtime Fiddlers contest, Bob Wills Fiddle Festival & Contest, Texas State Championships/Fiddlers Frolics and Grand Masters Champions.
Our judging panel for the 2018 Colorado Fiddle Championships are:  Alita Weisgerber, Marty Elmore , Sherry McKenzie, and Starr McMullen. .   We are proud to have secured such outstanding professionals to judge.  Our distinguished staff guitarists are Joey McKenzie and Anthony Mature.  Our talented sound engineer is John Lardinois.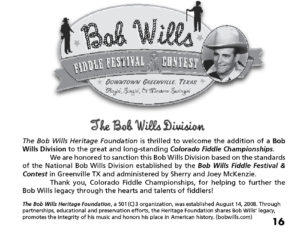 For the second year there will be a Bob Wills Swing Fiddle division, sanctioned by the Bob Wills Heritage Foundation Inc., which seeks to preserve and promote Bob Will's legacy through publications, recordings, educational outreach, events – all avenues to share the music and story of this American innovator and artist. Click for Bob Wills rules.
There will be a judged guitar accompanist division. We are proud and honored to have Jake Jabs of American Furniture Warehouse sponsor this division.
Please join us at the 2018 Colorado Fiddle Championships for one of the finest fiddle contests in the nation!  Contest registration is NOW CLOSED, but you can still sign up Saturday morning at the fiddle contest registration desk!
CFC 2018 Contest Rules
Lodging
Sponsors
CFC 2018 Prize Money