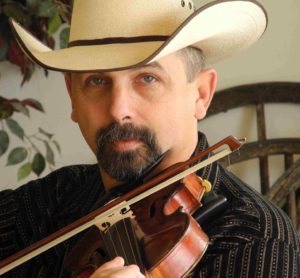 Junior Marriott began playing rhythm guitar at the age of seven for his dad, who played the fiddle. By age nine he was playing bass.  At fourteen he began playing the fiddle. By the age of sixteen he won the Missouri State Fiddle Championship, a title he has won several times, including the 2010 championship. Junior has won numerous contests including other state championships. These include Kansas State Fiddle Championship, Arkansas State Fiddle Championship, and Grand Lake Fiddle Festival Champion in 2006, 2007, and 2010. He placed 5th at the 2000 National Fiddle Contest and 3rd at the Grand Masters in 2013.
Junior travels across the country not specific to just competing. Junior is also an esteemed judge, contest organizer and supporter. Major fiddle contests Junior has judged include Missouri State Championship, Arkansas State Championship, Grand Lake Championship, Colorado Fiddle Championships, Bob Wills Fiddle Festival, the Texas State Championship and the Grand Master Fiddler Championship. Contests he has helped organize, include the Branson Fiddle Festival, Mid America Fiddlers Championship, and the Laura Ingalls Wilder Fiddle Off.
Junior lives in Ava, Missouri where he owns and operates Marriott Music with his wife, Cathy. He buys, sales, trades, and repairs instruments and offers lessons both in store and on Skype. You can contact Junior at www.marriottmusicstore.com or at Marriott Music on Facebook.