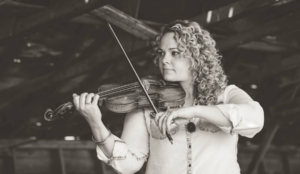 Katrina Nicolayeff is an 9 time National Champion. She won her 4th, 5th, 6th, 7th and 8th titles in 2011, 2013, 2016, 2018 and 2019 at the National Oldtime Fiddler's Contest where she won the title of National Grand Champion. In 2021 she broke the record winning the National Grand Championship for the 6th time.
In September 2021 she broke another record winning her 4th title of Grand Master Fiddler Champion held in NashvilleTennessee.
Katrina started playing rhythms on her fiddle at 16 months old. At 18 months old her mother Bobbie started teaching her oldtime fiddle tunes. She entered her first fiddle contest when she was 2 years old.
Katrina was born in Nampa Idaho and now lives in Meridian Idaho with her husband Alex, 13 year old son A.J. and 9 year old daughter Chloe. She enjoys spending time with her family and loves being a mom!